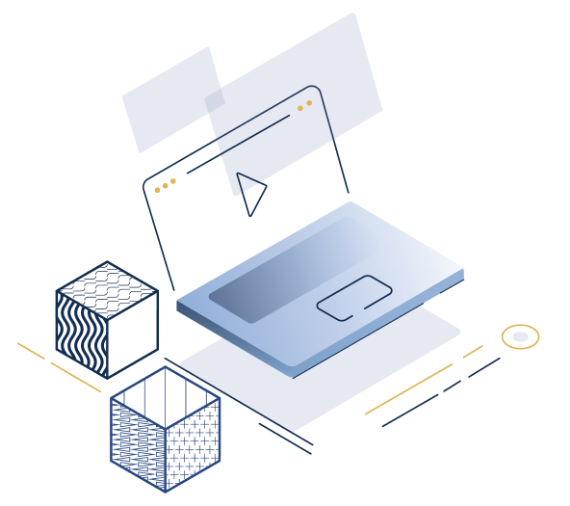 JEXOS
Blockchain
We are working on an open source Blockchain project, called JEXOS - Block Claim Protocol.
We know the Advertising Industry and we have experience building Enterprise Infrastructures. Most Blockchain companies either make a mistake on the Advertising side or on the Blockchain building side. Our extensive experience ensures us to build the most accurate and flexible Blockchain that all Ad Industry stake holders can use with ease and at free of charge.
Further private funding for the project is getting raised.
JEXOS
Token Features


Existing Platform
with Hyperbidder

Professional
Engineering Team

Regulatory
Reasons

Disrupting The
Digital Ad Industry
Token
Allocation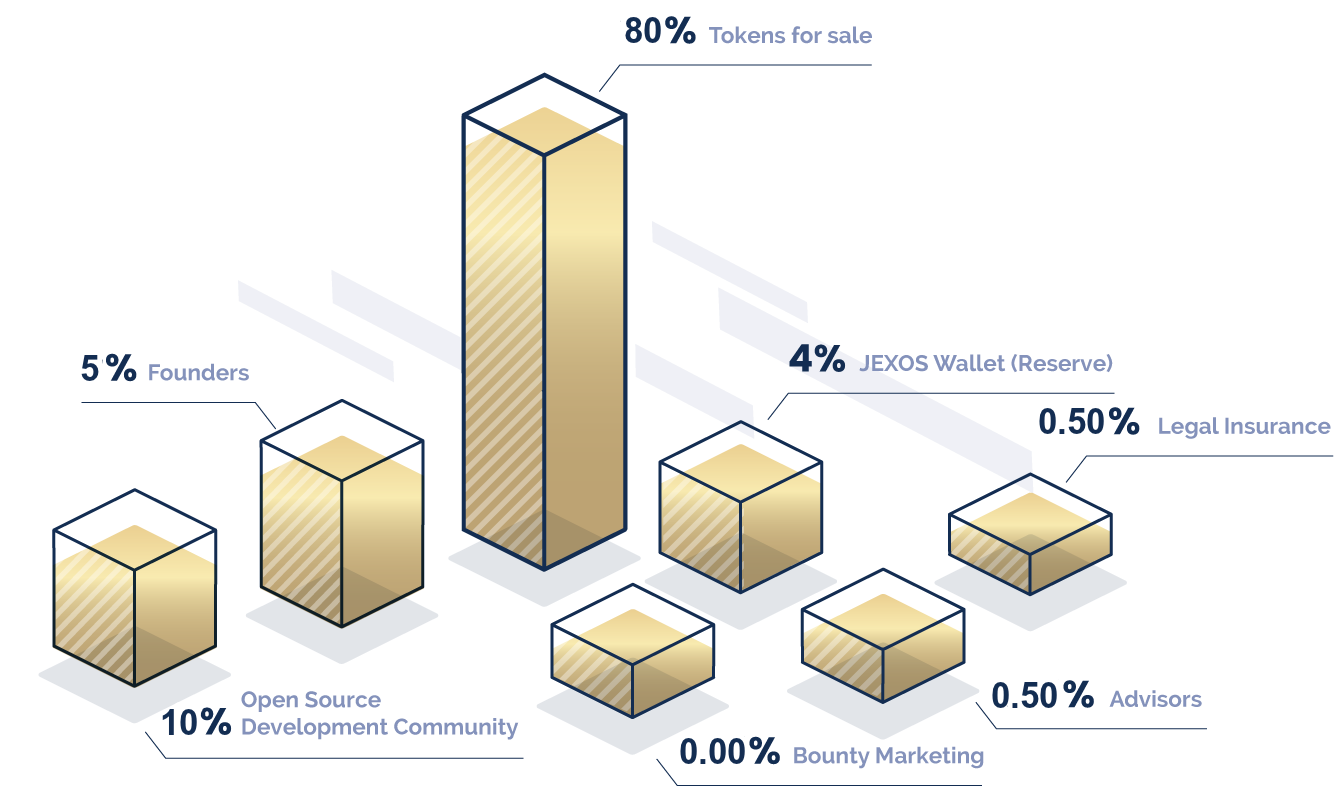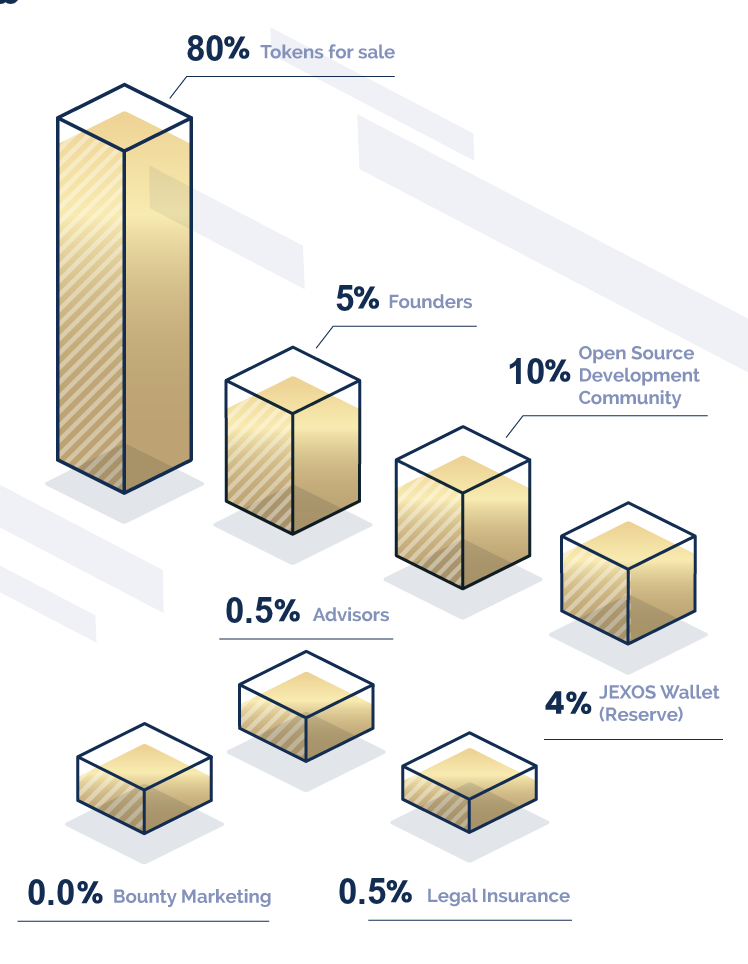 Token
sale

JEXOS does not offer Bounties or Airdrops
to keep our Tokens just for serious Investors
JEXOS does not offer Bounties or Airdrop
to keep our Tokens just for serious Investors

IEO 1st Round
Negotiating w. Exchanges
IEO 2nd Round
Negotiating w. Exchanges
10,000,000
JEXOS Tokens For Sale
Due to very limited supply, we can not allocate tokens to everyone.
We prefer long term investors so please tell us why we should offer our tokens to you.
If you want to buy some JEXOS tokens during Private Sale, please
email us here.
Please, let us know in your email how many you would like us to allocate.
We can not guarantee you will receive the exact amount of allocation you want, if any.
Road
map

Hyperbidder Incorporated
APR 2005
NOV 2005
Ad Platform Launched
NBC/Universal Joins
MAY 2006
APR 2012
17.5 Billion Page Views
A.I. Based Solutions
NOV 2015
Blockchain Concept
SEP 2017
NOV 2017
Research &Planning
Prep for Token Generation
SEP 2018
May-Aug 2019
Private Token Sale & IEO
Building Mainnet & Infrastructure
Sep 2019 - 20


Hyperbidder Incorporated
APR 2005
NOV 2005
Ad Platform Launched
NBC/Universal Joins
MAY 2006
APR 2012
17.5 Billion Page Views
A.I. Based Solutions
NOV 2015
Blockchain Concept
SEP 2017
NOV 2017
Research &Planning
Prep for Token Generation
SEP 2018
May-Aug 2019
Private Token Sale & IEO
Building Mainnet & Infrastructure
Sep 2019 - 20
JEXOS
Team

FAQ

How does having an Existing Product help Hyperbidder?
Most ICO's, upto now, have been trying to raise funding for their coins or tokens without any product or service in place. They have been trying to sell their tokens saying they have a project that they will build a product out of the funds they raise through their token or coin sale. This is never a guarantee as many of them have been a pump and dump, or a scam. Hyperbidder, on the other hand, has a finished product with many business functionalities and has been around for over ten years.
---
Is it absolutely necessary to have a platform for a token to be offered?
The idea behind offering a token is to use it in a platform, usually the accompanying company's platform. While so many ICOs offer tokens, they do not have a platform to use the token for a use case. The token that is offered should have a purpose and should be used in a platform for a user case that achieves a goal. Also, it is best if the usage of the token in the Platform or in the Eco System adds value to the overall Eco System or Platform. This is where JEXOS™ also sets us apart from other so called ICOs that never materialize. We, unlike most, have had a very sophisticated platform where our token JEXOS™ will be used in. It is a big advantage to already have a running, functioning built-in platform.
---
Does JEXOS™ have a user case, or a meaningful purpose?
Yes, absolutely. We are a building an open source core Blockchain for the Digital Ad Industry, and our token will be part of our ECO system that offer solutions to existing problems in Advertising Industry. However, we already recently built a custom API that allows advertisers to use our JEXOS™ Token to buy advertising through our parent company Hyperbidder's Platform. Users can already buy our JEXOS™ Token with Cryptocurrency (Ethereum) through our Hyperbidder Platform to use it in the Hyperbidder Platform.
---
What about regulations? Does your ICO take place at a ICO friendly country with less regulations?
Yes, definitely. We are in Switzerland. It is the Blockchain and ICO Capital of the world. They call Zug the Crypto Valley. Switzerland is one of the most ICO friendly countries in the world. Also, since the taxes are very favorable to corporations, a lot of companies relocate to Switzerland to offer their ICOs. We have been here long before the ICOs started.
---
How many JEXOS™ will be offered?
There will be very limited "JEXOS™" that will be offered in total. Only 60,000,000 "JEXOS™" will be made available for all Token sales. There will be 6,000,000 JEXOS™ Tokens offered during Pre-Private Sale, another 6,000,000 during Private Sale, 12,000,000 during Pre-Public Sale, and 36,000,000 during the Public Sale.
---
How many Publishers does Hyperbidder have in its Advertising Platform? Also, what kind of Technologies Hyperbidder uses?
Hyperbidder is a large Ad Exchange Network with more than a thousand Publishers with NBC/Universal as one of the largest Publishers. Hyperbidder utilizes Artificial Intelligence to enhance its technology. With more funding, Hyperbidder will develop its Blockchain Technologies on top of its existing Application (JEE) that runs its Platform.
---
Does being around for a while help Hyperbidder and JEXOS™?
Yes, definitely. Hyperbidder has been around for a while and has brand recognition. A simple search on Google or other search engines would reveal that many web sites mention or highlight Hyperbidder as Google alternative for advertising.
---
What makes JEXOS™ so special? Why shoud investors invest in JEXOS™?
We are building an open source Blockchain specifically for the Digital Advertising Industry with a $230 Billion market share. Up until now, a lot of companies have been promising they bring so much change with their token, and have built nothing new but instead took the Ethereum's coin and cookie cut it and then claim it they have the solution. What most people do not realize is that the Ethereum coin has limitations and is mostly good in the Financial Blockchain. Our engineers on the other hand are building a different kind of token with a wide range of capabilities that is better suited for the digital Ad Industry. Also what many people do not know or do not realize is that not everything can be done on Blockchain. Since you can not have too many transactions through the current Blockchain, certain things need to be done off-chain for example. We are building the JEXOS™ Blockchain utilizing the Block Claim Protocol, our secret sauce. And no, we will not disclose to anyone what this protocol does. We are seasoned entrepreneurs with one Founder, Kishor Patil, having built many Enterprise Infrastructures for Fortune 100 Companies and is considered one of the best Enterprise Software Architects in the world while the other Founder, Giorgio Talegon, has built an Ad Exchange Network called Hyperbidder that runs on its own propriatory Technology, and has papers Published. In short, what we are trying to say is we have the know how and we know what we are doing.
---
What will the JEXOS™ Token pricing be like?
We will issue limited amount of JEXOS™ unlike most ICOs that issue Billions of coins. Since the amount will be limited to only 10,000,000 JEXOS™ and currently the pricing on JEXOS™ is $0.50 per JEXOS™ for the Private Sale.
---
Most investors prefer to invest in ICOs with good engineers behind it. How is your engineering Team?
Our biggest asset is our Engineering power. While most ICOs have no engineer, or have never built anything, we spent most of our time developing new technologies. We have been developing AI based solutions for over ten years and have inventions in Digital Advertising. In short, we have been around, and with our extensive experience in software engineering, there is nothing we can not build. One of the Founders of Hyperbidder, Kishor Patil, is a well-respected Enterprise Solutions Software Architect while the other Founder, Giorgio Talegon has published patents on Digital Advertising specifically on Ad Exchange Networks, hence the name Hyperbidder.
---
Contact
Us

Any Questions? Reach Out to Us and We Get Back to You!